"True Romance" From Charli XCX!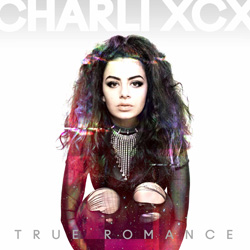 Charli XCX (AKA 20-year old Hertfordshire born Charli Aitchison) is proud to confirm the release of her debut album "True Romance" through IAMSOUND on April 16th in the US (and April 15th through Aslyum in the UK).

Charli commented, 'I am so happy to have finished my first album, True Romance. For me, it's a very emotional record. I suppose I kind of grew up through the process of making this album and as I've grown my views on love and life have been constantly changing. Each song is about love in some shape or form, whether that be euphoric love, heartbreak or obsession. Every corner of my own romantic history is explored on this record, so for me it's very raw, it's very honest and it's very true. I've written a pop record from the heart, and when people hear it I hope they want to dance and cry at the same time. '

Over the past few years, Charli has released a series of singles and mixtapes, toured the globe supporting the likes of Coldplay, Santigold, Sleigh Bells and Justice and garnered champions from practically every tastemaker blog and magazine on both sides of the Atlantic. She's had 2.5 million views on YouTube, 470k views of new video for 'You (Ha Ha Ha)' (in one month) and over 630k total plays on Soundcloud. It's hard to believe someone so young could achieve so much. Through it all her main focus has always been on making the best possible album she could. This was made possible by working with some fantastic collaborators who helped hone her vision for a dark, emotional pop record including Ariel Rechtshaid (Usher, Major Lazer, Solange), Patrik Berger (Lana del Rey, Robyn) as well as hotly tipped blog favourites Blood Diamonds and J£zus Millions.

FOR MORE INFORMATION:

http://www.facebook.com/charlixcxmusic

http://www.twitter.com/charli_xcx

http://www.myspace.com/charlixcx

http://charlixcx.tumblr.com/

Enter to win!

Thanks for visiting EDGE!
Click here to learn about the 365 Gifts Promotion »