"The Electric Lady" from Janelle Monáe!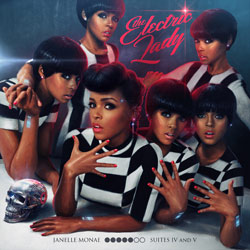 Here Comes The Electric Lady: Janelle Monáe

At long last, Janelle Monáe-the inimitable, award-winning, songwriter, performer, producer, CoverGirl and avant-garde funkstress-is back again, releases her new album "The Electric Lady" featuring "Q.U.E.E.N', "Dance Apocalyptic" and "Prime" (available now)

With "THE ELECTRIC LADY," Janelle Monáe more than affirms the rapturous acclaim that greeted her now-legendary 2010 debut, "THE ARCHANDROID." The album sees the inimitable singer/songwriter/producer/performer/CoverGirl creating an epic new "emotion picture" inspired by her raw personal dreams and experiences and the stories of such courageous, powerful women as groundbreaking icons Dorothy Dandridge, Sally Ride and Cindi Mayweather. The musical language is equally innovative, an urgent, inventive future-pop fraught with mind-melting funk, rebel raps, punk energy, soaring guitars, day-glo synthesizers, psychedelic soul string arrangements, and Monaé's own astonishing, utterly idiosyncratic artistry.

In addition to the aforementioned collaborations with Badu and Miguel, "THE ELECTRIC LADY" further sees Monáe teaming with such like-minded artists as Solange ("Electric Lady"), Esperanza Spalding ("Dorothy Dandridge Eyes"), and her lifelong hero, the one and only Prince ("Given Em What They Want"). "THE ELECTRIC LADY" was co-produced by Monáe alongside her fellow Wondaland Arts Society members, Deep Cotton (Chuck Lightning & Nate Wonder) and Roman GianArthur. Monáe, Lightning, and Wonder Executive Produced with Sean "Diddy" Combs; the Co-Executive Producer is Antwan "Big Boi" Patton; Asscociate Album Producers are Mitch "Mitchowski" Martin and Roman GianArthur.

www.jmonae.com
twitter.com/JanelleMonae (@JanelleMonae)
www.facebook.com/janellemonae
instagram.com/janellemonae
www.youtube.com/janellemonae

Enter to win!

Thanks for visiting EDGE!

Click here to learn about the 365 Gifts Promotion »